Sustainability at Riverside Holiday Resort
Learn about our dedication to sustainability, and what steps we are taking to offer eco-friendly accommodation and a more sustainable holiday destination
Gumbaynggirr Country
Riverside is proudly located on Gumbaynngirr Country.
We recognise the Gumbaynggirr connection to the land, sea, and community; and pay our respects to their Elders past, present and emerging.
Riverside is proud to be a Quality, and Sustainable Tourism Accredited Business

What is sustainability?
Sustainability is when you are meeting the needs of the present without compromising the ability of future generations to meet their needs.
At Club Holiday Resorts we are passionate about sustainability, community and culture, and prioritise people, places and our planet.
Our mission is to provide value to our members, guests and local communities, and create an inclusive environment where everyone can enjoy life and create memories regardless of their abilities, and our vision is to make a positive difference to the quality of people's lives which includes the communities where our resorts are located on the lands of the Gumbaynggirr, Worimi and Dhurga Peoples.

At Club Holiday Resorts, we have created a range of Policies & Procedures that foster inclusion. We employ locals and support local businesses wherever possible, we aim to minimise our carbon footprint and reduce waste, and we recognise the Gumbaynggirr, Worimi and Dhurga custodians of the lands, and their connections with nature, we promote nature based and First Nation's experiences so that our guests can enjoy a connection with the local land whilst visiting one of our resorts, and learn why it is so important to tread lightly and leave only footprints.
Our Sustainability Initiatives
Aboriginal Culture
We are committed to continue to incorporate the local Gumbaynggirr stories and language into our resort through signage, word-of-mouth, and online; as well as promoting local Gumbaynggirr experiences to our guests.
Our Club Holiday Resorts have an Aboriginal Employment Policy in place and strongly encourage Aboriginal and Torres Straight Islanders to apply for any advertised positions.
Water Savers
Rainwater is collected in three large tanks from the C.ex Club's roof and used to top up the resort's swimming pool, water the gardens.

Our apartments have A4-signs with water saving tips in bathrooms, and during drought/dry-season, buckets are provided for guests to water the gardens surrounding their apartment with their shower water.
As our apartments are self-serviced, linen doesn't require daily washing saving precious water.
Recycling
Recycling bins and information are provided under the kitchen sink in each apartment for our guests to recycle their paper, cardboard, glass and hard plastics.
When guests vacate the resort at check out, we ask that they place their recycling in the large recycling bins provided at the resort entrance and towards the rear of the resort.
We offer separate bins for bottles and cans to be recycled at our nearest Return and Earn station.
Non-Toxic Products
All cleaning products used are eco-friendly and GECA Certified biodegradable.


All our apartments are stocked with Earth Choice products.

We use safe-for-staff and guests Enviro Air-freshener when making up rooms.

We have reduced pesticide use by 75% since 2019 throughout the resort grounds, replacing with natural alternatives.
Power Saving
All resorts lights have been converted to LED.
Apartment air-conditioners require a key and can only be used when guests are in the apartment.
Apartments 33-40 in our newest apartment block have solar hot-water installed.
Apartments are self-serviced so reduce environmental impact of daily washing and cleaning.
Employment & Procurement
Riverside employs locals to support our local and surrounding communities.
It is important to us that where possible, we source products and services for our resort from local businesses and workers to support our community and its local economy, as well as lowering our carbon footprint.
Green Office
Wherever possible, we source office products locally to lower our carbon footprint and support local businesses.

We recycle and reuse where possible to avoid waste.

We try to maintain a paperless office using cloud based storage systems. Our Ecotank printers use less ink and don't rely on refillable cartridges, and when needed, we use recycled printing paper.
Nature Pond
Our nature pond is not only a natural feature within our resort grounds neighbouring the pool on one side and the golf-course on the other, but is a haven for native wildlife.
The pond also collects and filters storm-water run-off.
We use bore water to top up the pond in times of drought.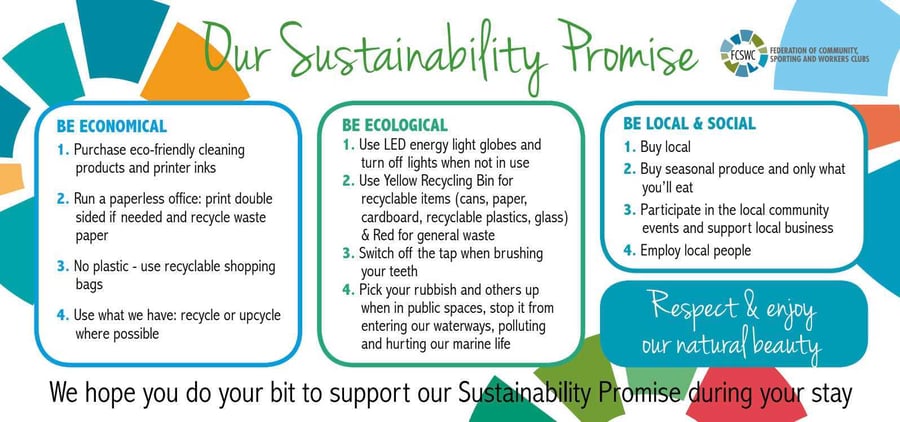 What we are working on now
Sustainable Bathroom Products
We are currently researching and trialling new environmentally friendly bathroom products that are paper wrapped or come in bottles made from recycled plastics.
At Riverside we will be initially trialling the Herbology range, and aim to implement the best new product line over all three of our resorts in the near future - stay tuned!
Coffee Pods
We will be changing over our apartment coffee machines with Mini Ess ones that take Biocap biodegradable coffee pods made from sugar cane and sugar beet that decompose in 12 weeks, replacing the currently used plastic pods supplied in our apartments.
We will begin rolling out our coffee machines and pods from June 2023. However, this process make take some time so that we are not wasting our existing machines.
Electric Vehicle Charging
Seaside Holiday Resort in Fingal Bay has already installed an EVC on their resort grounds, with the aim of installing one or two stations at Riverside.
Currently, Riverside doesn't have the allocated power supply. However, when we install our new solar energy system and upgrade the existing hot water, this should provide us with adequate power for EV charging.
Gumbaynggirr Culture Walk
In 2022, the first part of a cultural walk with artwork created by local Gumbaynggirr artist Lisa Kelly was installed throughout the resort to share totems and language with guests.
We have plans to install further signage that will be created by another local Urunga Gumbaynngirr family and are hoping to commence this process in the latter half of 2023.
Installation of Solar
All three of our Club Holiday Resorts; Riverside Urunga, Seaside Fingal Bay, and Haven Sussex Inlet are currently in the process of installing new renewable solar energy systems.
Riverside Holiday Resort will be installing a 64.74kw system in the latter half of 2023, with the expected result to be a dramatic reduction of our electricity consumption that comes from the grid required to power our office, staff laundry, and our 40 two-bedroom apartments.
Upgrade of Hot Water Systems
Club Holiday Resorts have signed contracts to upgrade hot water systems across all three holiday resorts.
The Emerald Energy heat pump hot water systems are a part of the NSW Energy Saving Scheme and claim to reduce energy consumption by up to 70% as well as reducing CO2 emissions without the structural load that solar hot water places on roof tops.
Earth Check - Sustainability Training
Club Holiday Resorts Marketing team completed sustainability training as a part of the 'Destination NSW Sustainability Skills Micro Credentials' program. This program has given us greater insight into how our Club Holiday Resorts can become truly sustainable tourism operators, and what we can do to further reduce our footprints now and into the future.
We have now begun rolling out this training for staff across all three of our holiday resorts and Club Holiday Resorts' Federation management. We have also begun the process of putting together a Green Team with representatives from each of our resorts and a detailed Sustainable Management System to operate alongside our Operations Management System, ensuring we have guidelines and processes in place to manage, evaluate, and improve our sustainability at our holiday resorts, and ensure our success in reaching our sustainability goals.

"A vibrant, fair, and regenerative future is possible — not when thousands of people do climate justice activism perfectly but when millions of people do the best they can."

Xiye Bastida

Co-founder of Re-Earth Initiative
Contact us
If you think there is something else we could be doing to improve our sustainable practices, then we are always keen to hear from you!
Email us at marketing@fcswc.org.au