Accessible Accommodation
Seaside Holiday Resort Fingal Bay
Seaside Accessibility Statement
At Seaside Holiday Resort – Fingal Bay we aim to ensure that everyone's stay is as enjoyable as possible. We are committed to providing suitable access for all our guests, whatever their individual needs. In this statement, we aim to accurately describe our facilities and services to give you the confidence to book the right accommodation to suit your specific requirements.
Apartment Entrance and Parking
Two of our wheelchair accessible units have undercover parking spaces right outside each unit. These car spaces measure 3m in width with a height clearance of 2.3m, and there is a ramp leading to each unit.

Our four other wheelchair accessible units have close car park access. These are located within 30m of the front door access with a ramp in place of the carpark for easy access to the pathway for each unit.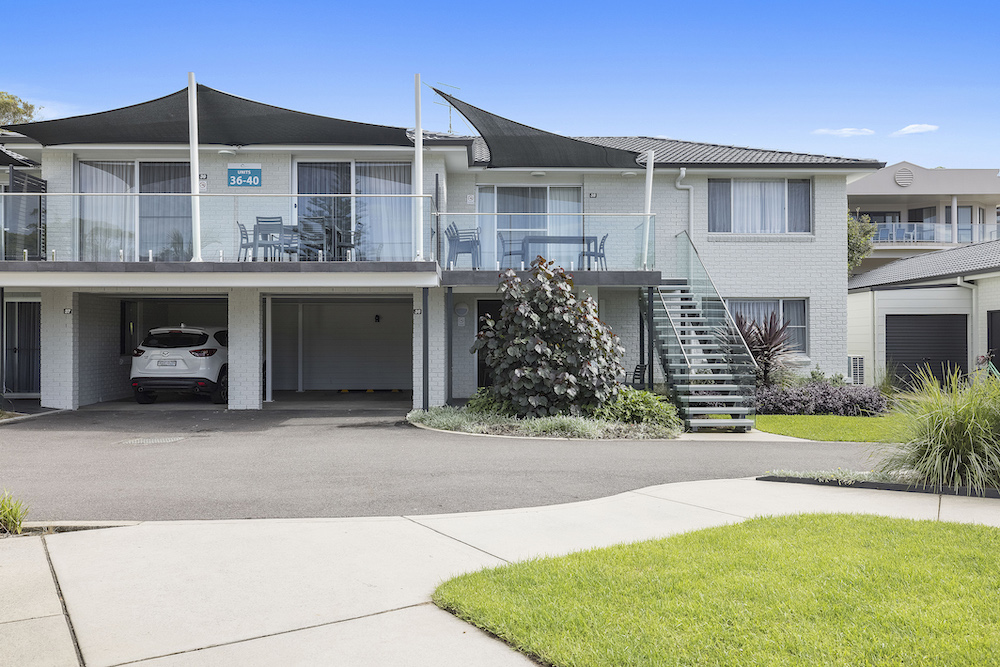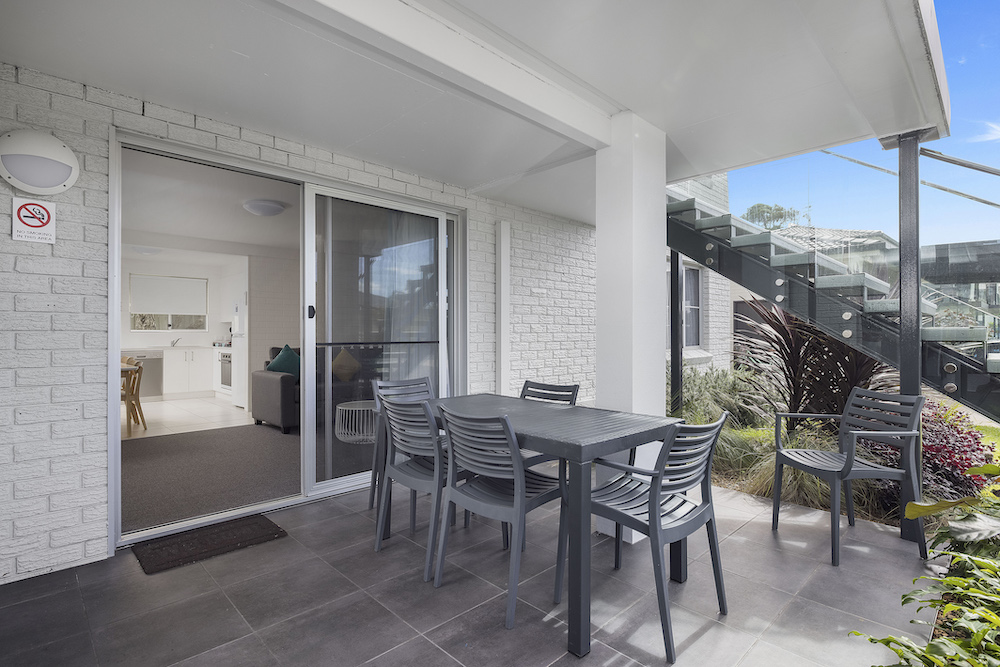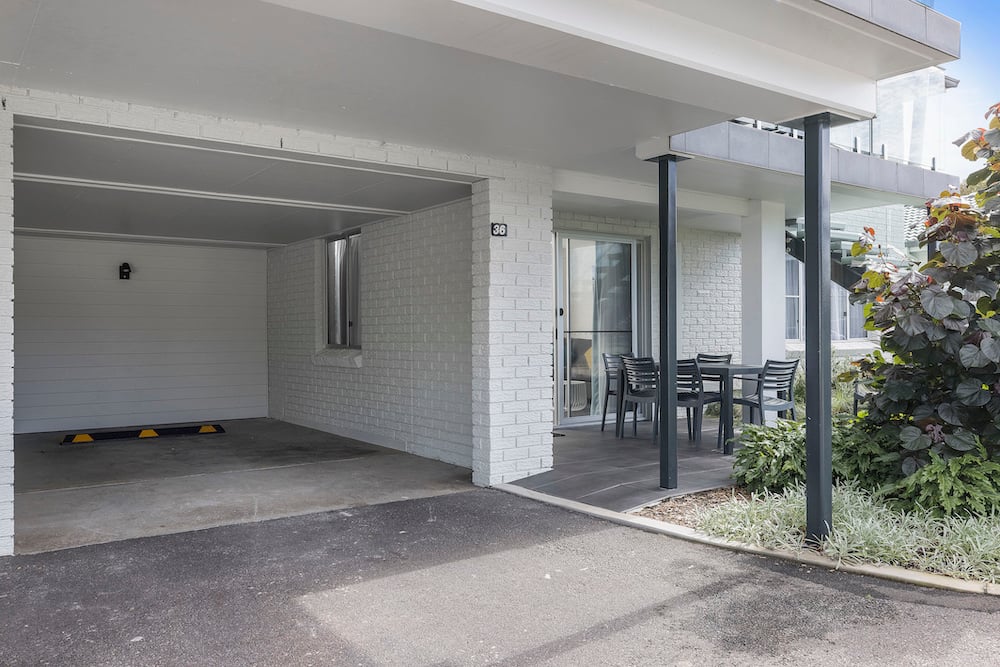 Main Entrance
Flat, easy access to reception. Parking is located directly outside the front door of the office.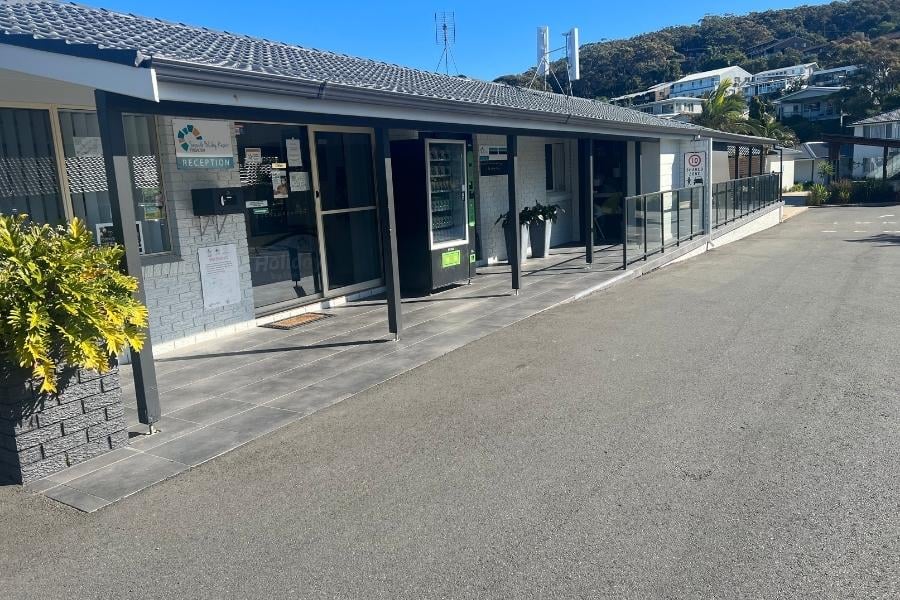 Reception Area
Keys for our Holiday Units are collected from reception located in the front driveway entry. Prior to your arrival, a welcome letter will be emailed to you to show you your apartment allocation. There is visitor parking located directly across from the reception front door. There is a flat, even surface leading to reception with a 1.1m wide sliding front door entry for easy access.

Please note there is a small step to access the reception.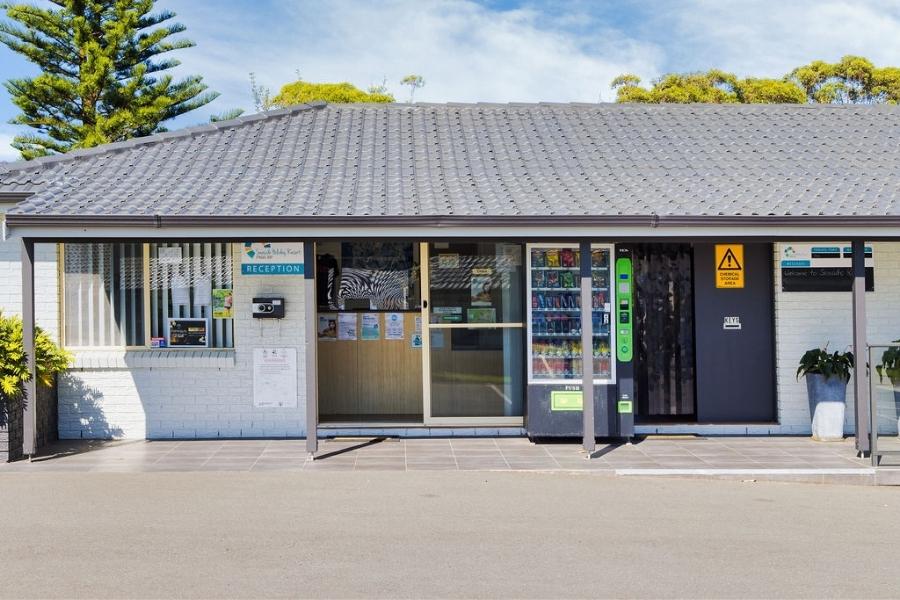 Guest Pool Area
Our pool area is a friendly, inviting and accessible space, with wide openings. There are two steps into the main pool, handrails are in place, and we also have a customised portable lift-chair that can be made available if you require assistance getting into or out of the pool. Please see our office staff or contact us by phone to arrange this service.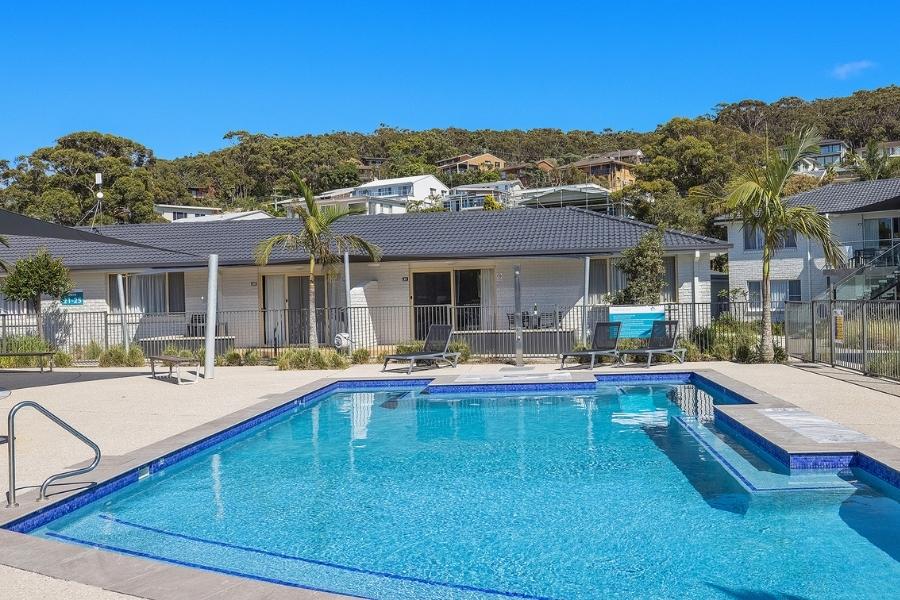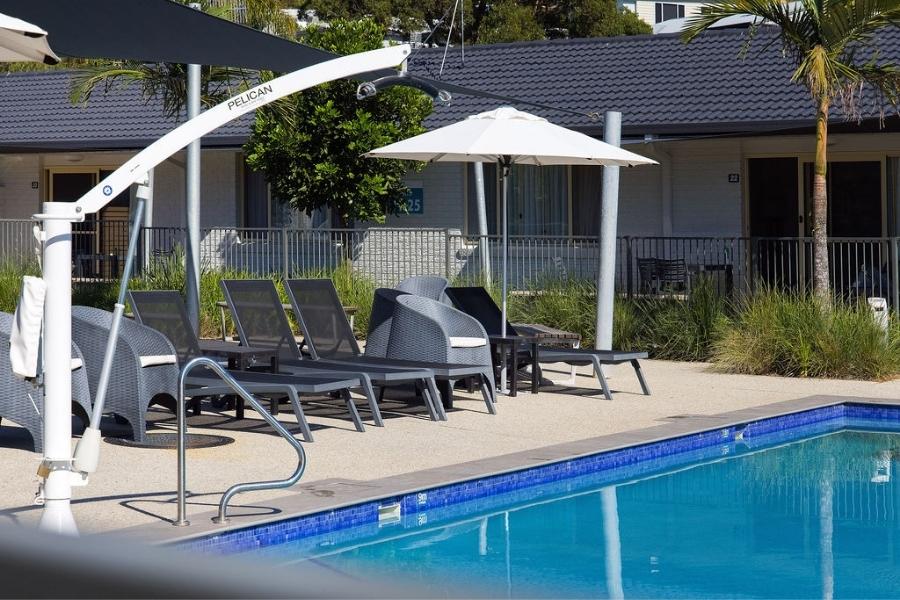 BBQ Areas
The four covered areas with BBQs and picnic seating are accessible via flat paths.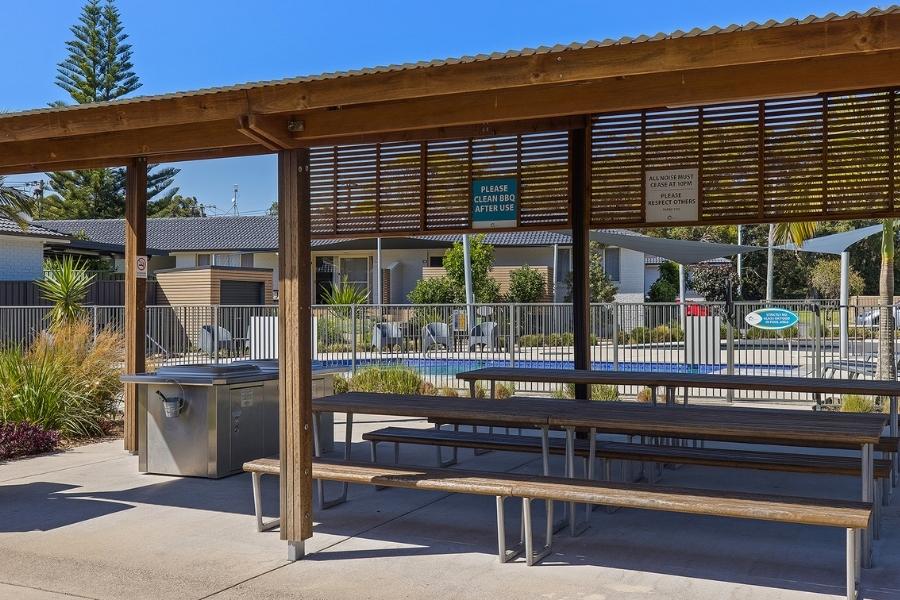 Vision
Certified assistance dogs are permitted to those with vision impairment. Please contact our reception at the time of booking or make a note when booking online so that we can allocate the best possible apartment for your stay.

No other animals are permitted for any reason.
Hearing
We can also provide a pen & paper to help with the exchanging of information. All our TVs have closed-caption capabilities.
Staff
Our Manager lives on-site. Please see our office staff during the hours 8 am-4.30 pm Monday to Saturday. Should you require any assistance after hours, please contact De-Anne on 0434 028 223.
Fingal Bay Beach
Fingal Bay Beach is located directly across the road from Seaside Holiday Resort. The beach is patrolled 7-days per week through the warmer months and through this time wheelchair matting is installed to allow guests with access issues to access the beach. A beach wheelchair is also available from the Fingal Beach Surf Life Saving Club. Please book ahead or speak with on-duty lifeguards to access the wheelchair.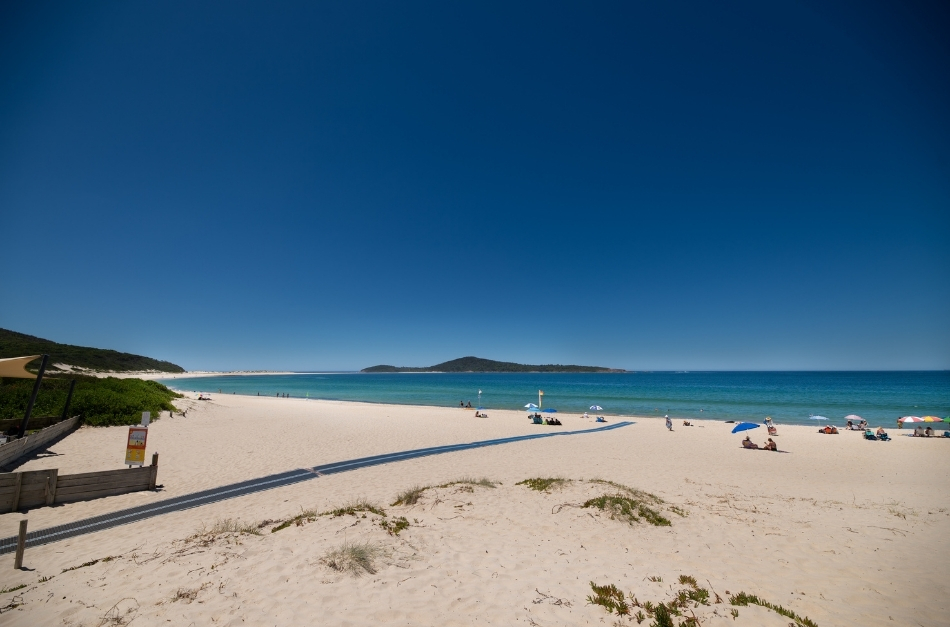 Guest Living & Bedrooms
Our two and three-bedroom units have an open-plan kitchen, dining, and living rooms.

The main bedroom has a queen-size bed and the second bedroom has two single beds.

The lounge in the living room is a fold-out queen-size sofa bed with an innerspring mattress.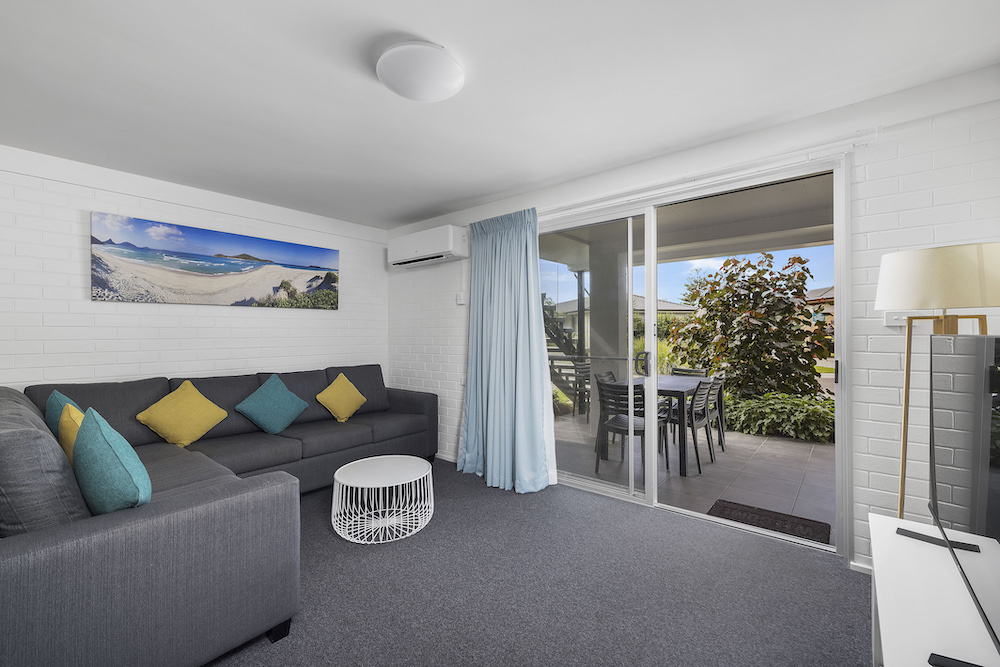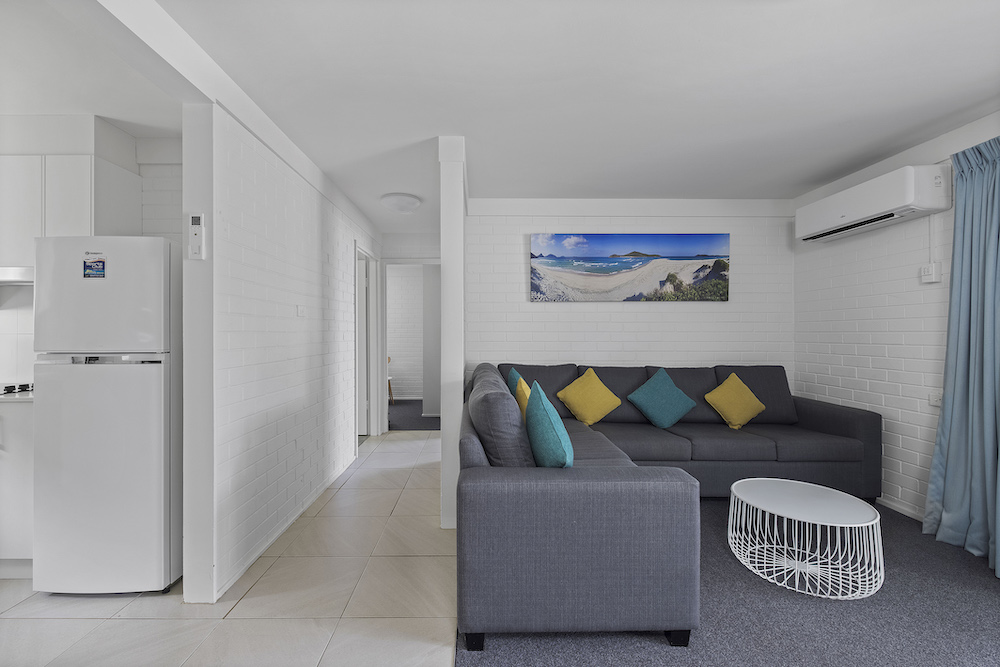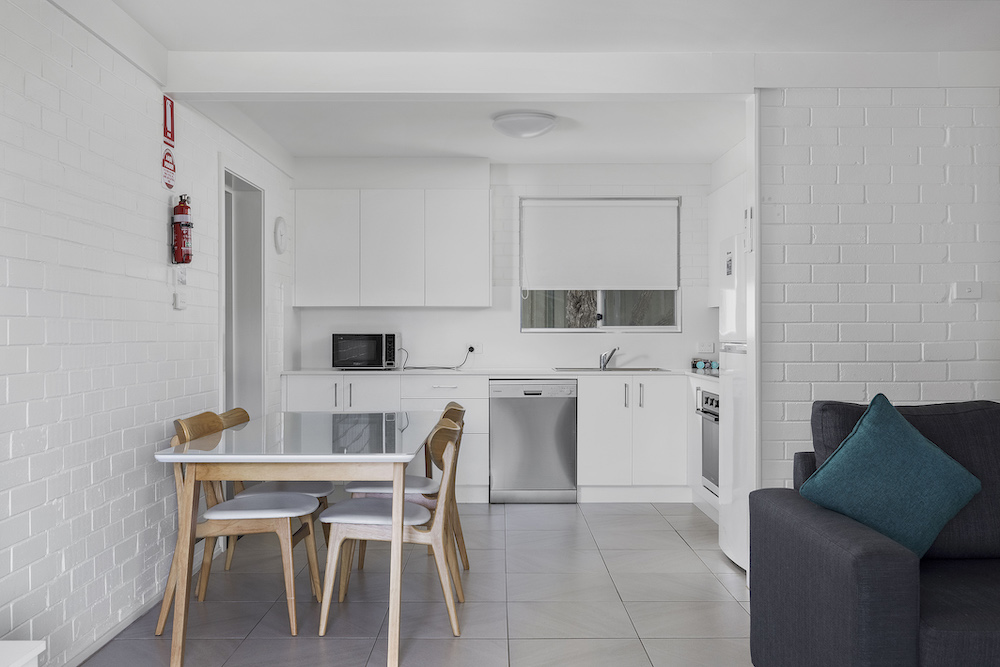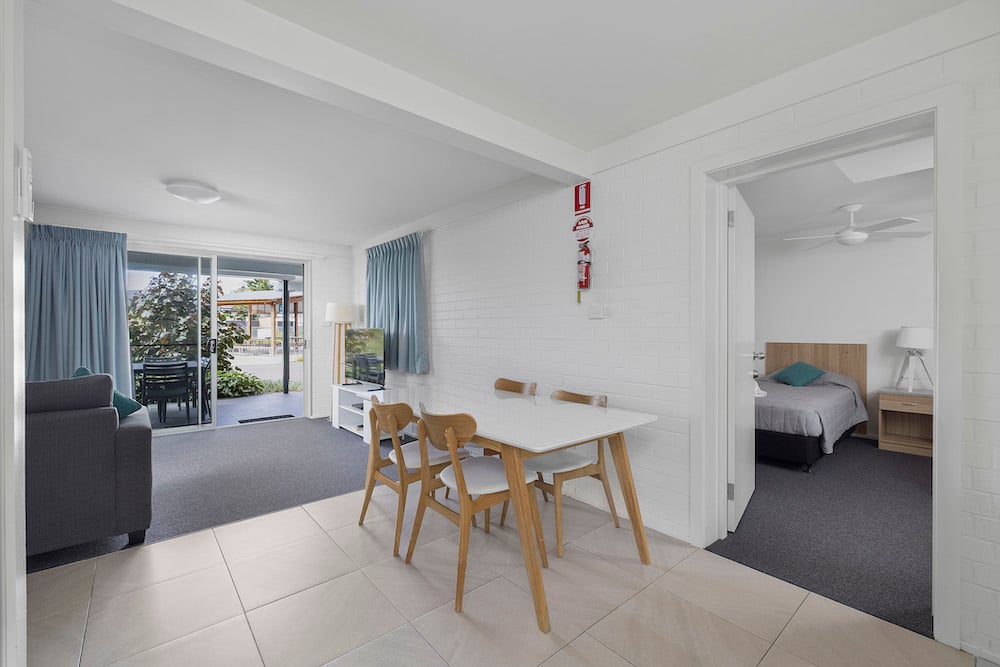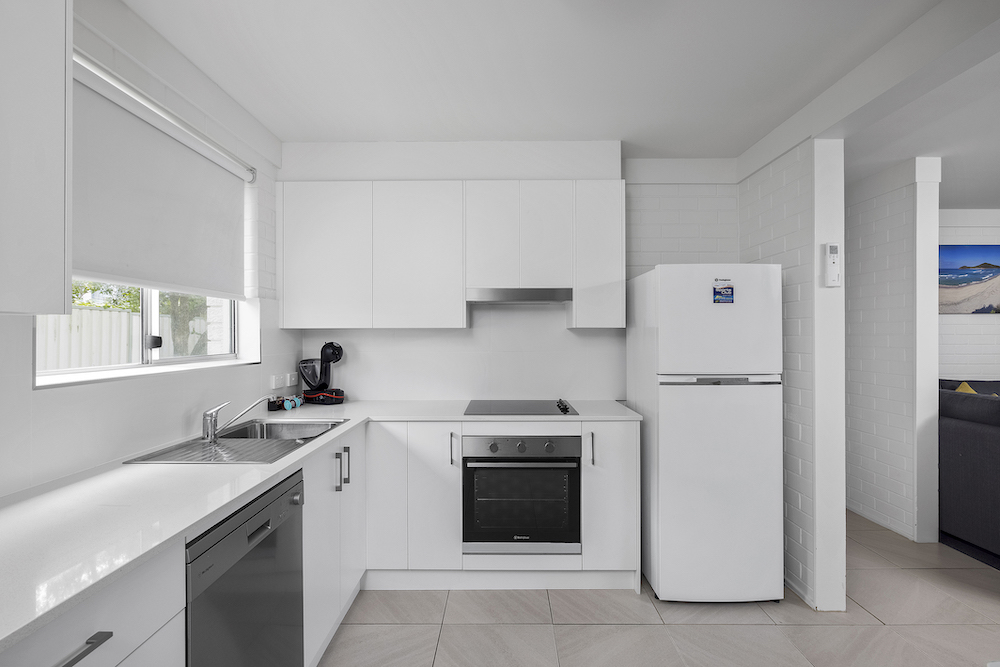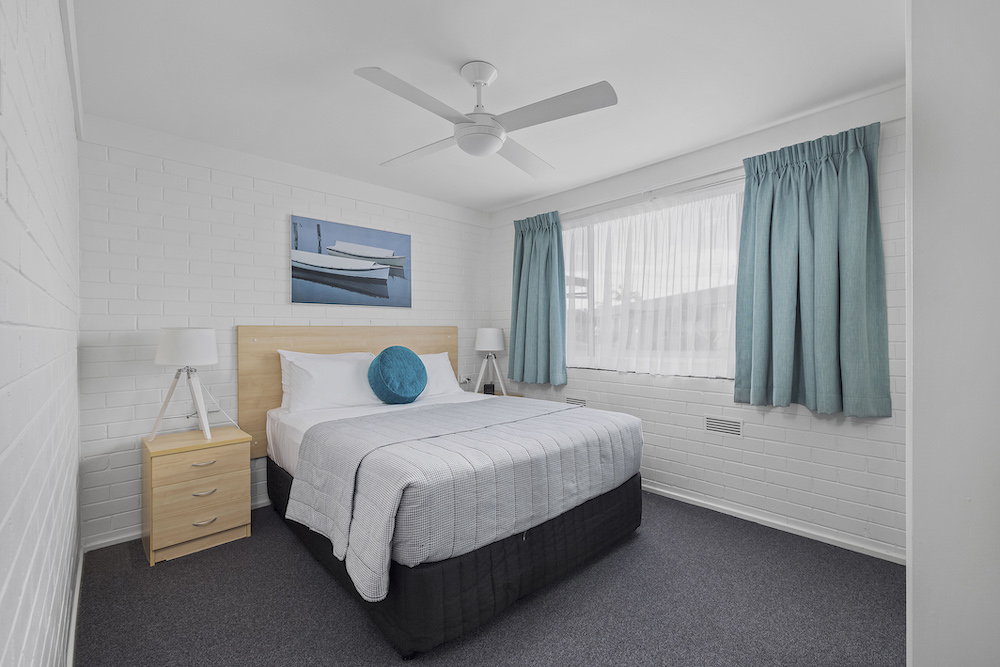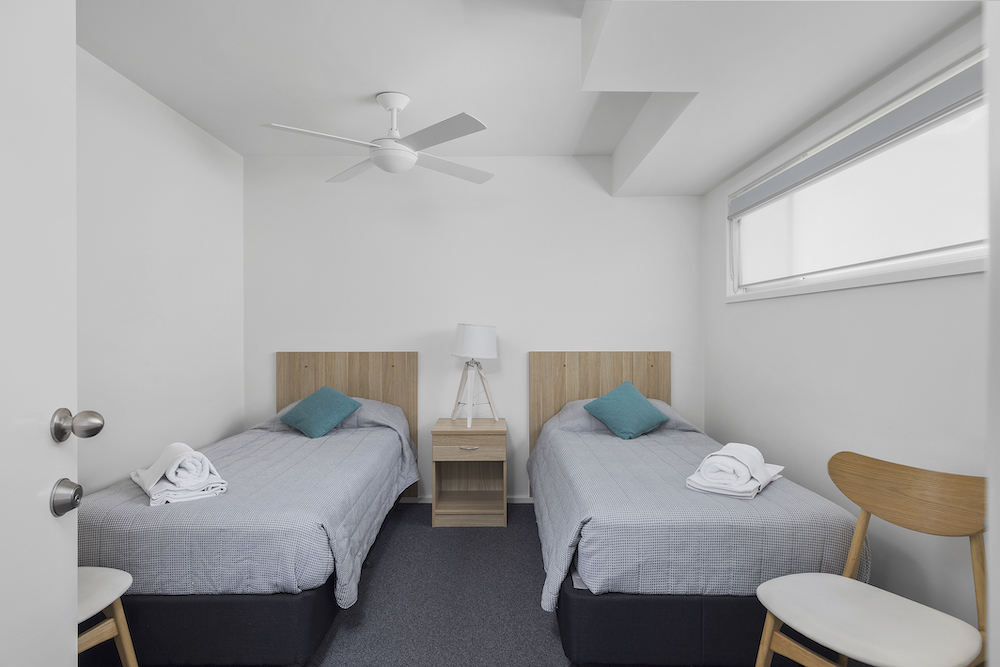 Guest Bathrooms
Our bathrooms have both grab rails near the toilet and in the shower. The shower area is on a level, self-draining floor, free of hobs and sliding tracks, with a clear space of between 80cm and 90cm wide. Clearance around the wash-basin varies between 70cm and 80cm. The shower-head is extendable and the fittings and fixtures can be reached from a seated position. There is no bathtub.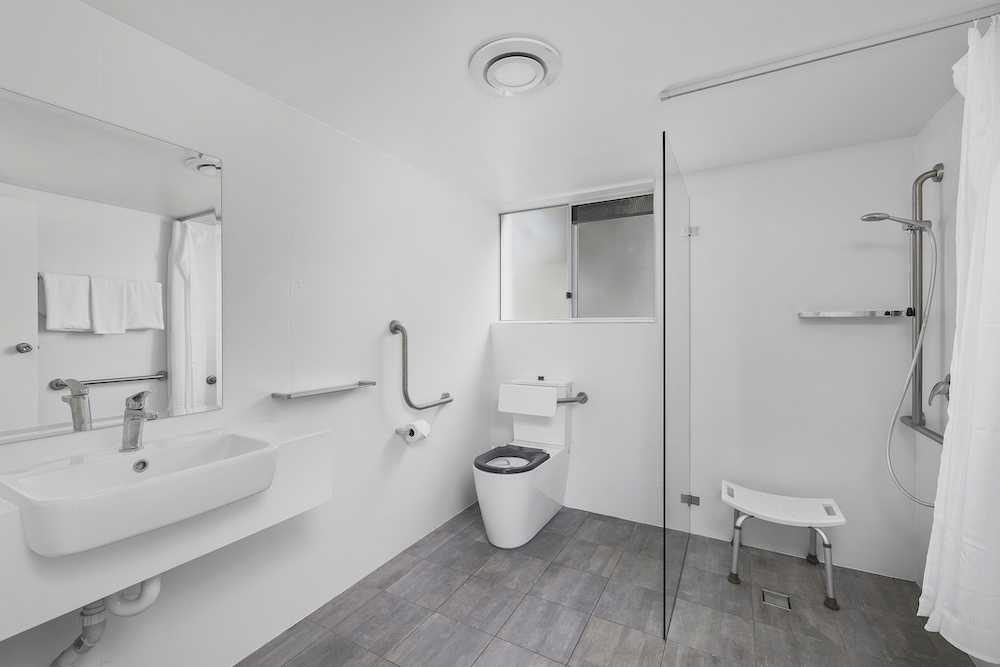 Our wheelchair accessible apartment bathrooms have additional space, fold down shower seat and additional grab rails.
Mobility Equipment Hire
If you require mobility aids or equipment during your stay, you can contact the following businesses:
1/8 Central Avenue, Salamander Bay NSW
Phone: 02 4039 3025
Email: salamander@ansteys.com.au
Large selection of mobility aids and equipment in Port Stephens, Newcastle and Maitland.
Unit 1, 23 Shearwater Drive, Taylors Beach, NSW, 2316
Phone: 02 4919 0455
Email: BayMobility@iinet.net.au
144 Lambton Road, Broadmeadow NSW 2292
Phone: 02 4952 2264
Email: info@imr.net.au
Large selection of mobility aids and equipment located in Newcastle.
Shop 5/16 Stockton St, Nelson Bay NSW 2315,
Phone: 02 4984 2445
Email: nelsonbay@twcmgroup.com
Limited equipment hire of blood pressure monitors, cPAP supplies, crutches, nebuliser, walker and a wheelchair.
* Please note that some businesses can only drop off and collect their equipment on weekdays, so if you require items such as heavy lift beds, we ask you arrange your booking around their availability in the case we have back-to-back bookings. Please feel free to speak to our reception staff for assistance with bookings.
Should you have any questions at all, please contact our booking office on 02 49811533 and we would be more than happy to assist.